The European Innovation Council (ERC) awarded Aveiro with third place as European Rising Innovative City. This recognition to Aveiro was given in the scope of the European Capital of Innovation Awards, known as iCapital Awards, which took place in the scope of the European Innovation Council 2022 Summit, on 7 and 8 December, in Brussels, with the presence of the Councillor of Aveiro City Hall, João Machado.
This European Union award, supported by the European Innovation Council under the Horizon Europe programme, recognises the role cities play in shaping the local innovation ecosystem and in promoting innovation, identifying cities that connect the public, academia, business and the public sector to successfully translate the results into improved well-being for society, while driving innovation.
For Ribau Esteves, Mayor of Aveiro, "with this recognition, Aveiro sees the importance of the work being developed in the scope of the Aveiro Tech City initiative reinforced, which has as its main objectives the bet on the training of our young people through STEAM education, the creation of a Living Lab to support R&D Centres and startups and finally, the support for the digital transformation of services and the city, in order to create more and better services for our residents and visitors", he said.
Aveiro applied for the award through the Aveiro Tech City initiative, led by Aveiro City Hall, in partnership with several partners that includes the University of Aveiro, Altice Labs or the Institute of Telecommunications, among others. Aveiro Tech City integrates more than 20 different activities, with special emphasis on the work developed in the area of STEAM Education, Aveiro Tech City Living Lab or in supporting the digital transformation of the municipality.
After a careful selection process, the CEI has awarded the following prizes:
The European Capital of Innovation
- 1st Place: Métropole Aix-Marseille Provence (France);
- 2nd Place: Espoo (Finland);
- 3rd Place: Valencia (Spain).
The European Rising Innovative City (for cities between 50 and 250 thousand inhabitants)
- 1st Place Haarlem (Netherlands)
- 2nd Place Mainz (Germany);
- 3rd Place Aveiro (Portugal).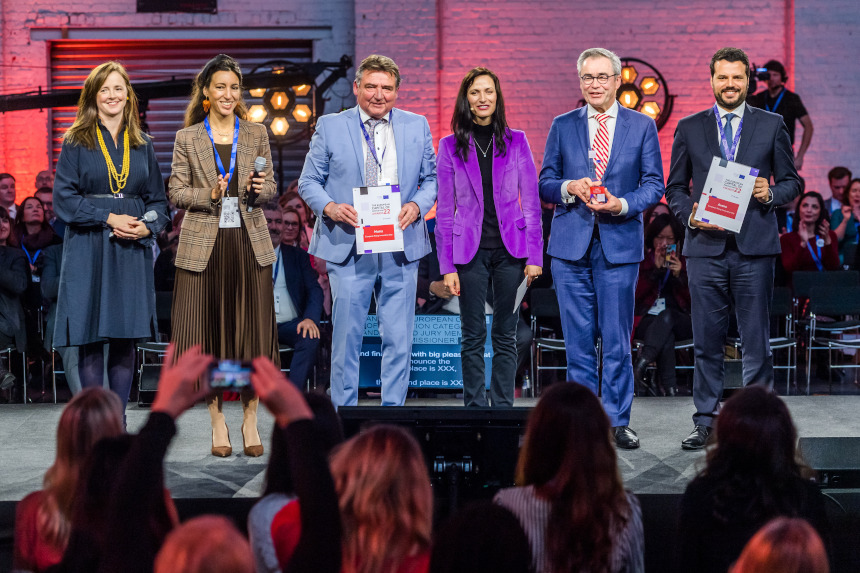 This annual summit aims to bring together innovators, researchers, entrepreneurs, investors from across the European innovation ecosystem to discuss and shape the future of European innovation policy, and was attended, among others, by the European Commissioner for Innovation, Research, Culture, Education and Youth - Mariya Gabriel.
In conclusion Commissioner Mariya Gabriel underlined that "iCapital finalist cities are catalysts for thriving innovation ecosystems across Europe. I am impressed to see that cities are the space for innovation, testing various approaches, services and products for a better, more sustainable and digital urban future."