The Observatory conducted interviews in order to learn about the digitization strategies of local companies and their qualification and requalification needs to support these strategies motivated by the adoption and sustainability of new technologies.
The interviews carried out with companies representing the Industry sector in the territory of Aveiro, covered the areas of the Forest Base (Pulp, Paper and Tissue), Ceramics, Electrical Components for Automobile Industry, Equipment, Systems and Solutions for Industrial Automation, Manufacture of Appliances for Domestic Use and Engineering Centre , and Foundry of parts for the automotive sector In what concerns technical competences, the respondents identified the following two areas as the most important: Big Data and Advanced Analytical Competences and Robot Assisted Production Competences
(Automation and Robotization). Secondly the domains of Maintenance (notably Predictive Maintenance), followed by the needs for hybrid profiles, namely combining hardware and software competences, also designated as "Polyglots" by the interviewees. Also highlighted as important are Artificial Intelligence and Machine Learning Competences (especially in the i4.0 context) and Industrial IoT Competences.
The occupations associated with such competences can be found in the ESCO - European Skills/ Competences, Qualifications and Occupations database. It is important to mention that ESCO often associates two or more occupations related to each technical competence.
According to the companies interviewed, in the industry there is a very marked lack of professionals in the area of maintenance (which includes the areas of robotization, instrumentation or pneumatics) and the more technical and specialized areas of mechanics or electronics.
The survey about the training needs of the territory is important to allow for the development of training offers to bring together employees from several companies, who often do not have the investment capacity to provide these trainings isolated.
Figure 1 - Ranking of the most relevant technical competences for the Industry of the Aveiro market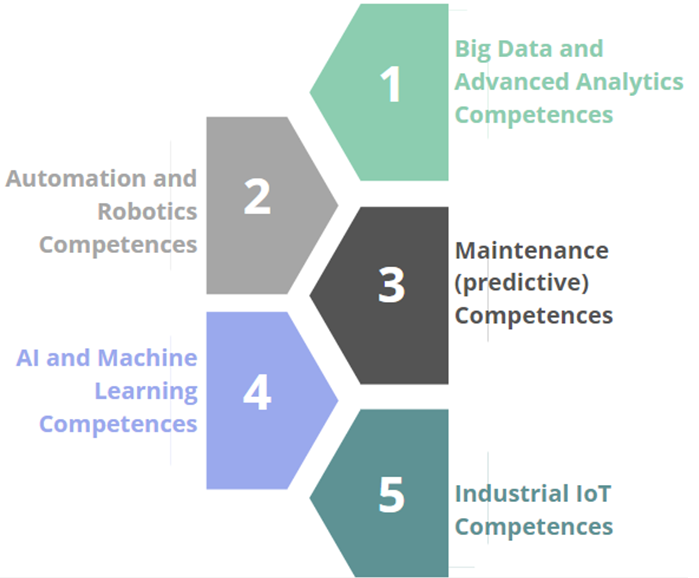 Source: Adapted from the Report on the Identification of Gaps and Qualification Priorities in the Context of Digital Transformation (2020)